LED Light Therapy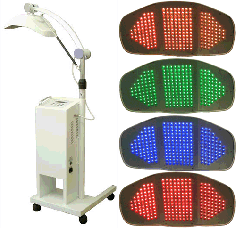 Offering the latest in LED light therapy treatments.
Our machines are approved and meet the new NZ council safety standards.
LED light therapy is proven to work and offer real results in both skin rejuvenation and repair.
Our machines operate on either Red, Blue, Green and Amber or combined colour options along with a 'New infrared Pen for tissue repair.
Our LED System also compliments microdermabrasion, peels, and other resurfacing techniques while also enhancing standard facial & body treatments.
Advantages
Safe and effective for all skin types, colors, and conditions
Comfortable, non-invasive, no down time, quick, convenient & adaptable
Red, blue, green, Amber or combination lights
Treatment times can range from 15 - 45 minutes
High profit return, no consumables
Ongoing training, technical and marketing support

NASA scientists have shown that particular wavelengths of light have positive effects on the body's ability to repair tissue.
LED Therapy will
Decrease fine lines and wrinkles.
Reduce facial flushing and redness.
Reduce non-genetic freckling.
Reduce irregular skin pigmentation.
Reduce pore size by 50%.
Increase product penetration.
Cause fading of brown spots and sun spots.
Reduce mild acne scarring.
Stimulates new collagen production.
Improves irregular skin texture.