Alquimia Treatment
Diamond Tips with Nutrient infusion...
Clean + Hydrate + Nourish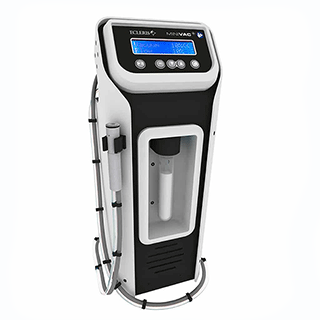 Alquimia + By Ecleris
Alquimia is a highly innovative treatment that allows a wide range of nutrient carriers and nutrients to be applied during cleaning and hydrating with diamond tips.


Active Dermoinfusion
The latest innovation in beauty treatments. This advanced technology system accepts not only aqueous solutions but a great number of different density products such as plasma, gels and emulsions that can transport a larger variety of nutrients for the best absorption to deep layers of skin.


Numerous Treatments
The new MINIVAC+ model offers aesthetic professionals the possibility of using their own products during treatment.
An unlimited combination of products gives you the opportunity to plan medium to long term treatments taking into
account various stages of the beauty process.


Young, radiant and healthy skin
Alquimia is a non-invasive treatment that replenishes nutrients, softens thin lines and wrinkles, refines pores, reduces signs of aging and protects skin from environmental damage while eliminating impurities.